Healthy California Now

is a statewide coalition of organizations and activists dedicated to establishing a single-payer, Medicare For All system in California.

Our goal is to eliminate all barriers to care and liberate California from the stranglehold of the health insurance companies and the pharmaceutical industry. We need a fair, equitable, cost-efficient healthcare system that puts an end to increasing costs, limited provider choices, soaring drug prices, surprise bills, and health plans that charge more and cover less.
Join our action team
Connect on local and state actions for the Healthy California Now campaign.
Contribute to the cause
Help build a movement to make healthcare a right in the Golden State!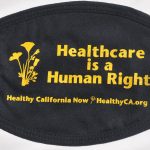 Get a mask
Get our "Healthcare is a Human Right" mask to show your support.